Bottlejob
Bottlejob - 2011 - Take it on the chin
Страна..: Англия
Размер..: 80.2 Mb
Битрейт: 320 Kbps
Сайт.....:
Myspace
Краткое описание: "Casual records" с гордостью представляет релиз от антифашистской Oi! группы из Британии -
Bottlejob
! Эти Лондонские панки ориентируются на первую волну английского Oi! и панка, такого как
Sham 69
,
Cockney Rejects
и
The Ruts
!
Various Artist - 2009 - A tribute to The Oppressed - Fuck fascism before it fucks you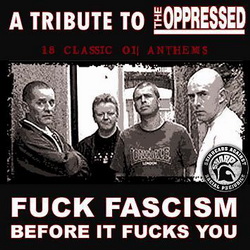 Размер...: 68.81Mb
Битрейт..: 192 Kbps
Краткое описание: Думаю из названия уже понятно, что нас ожидают каверы на The Oppressed. В сборнике приняли участие команды из разных стран, в том числе из России и Украины.